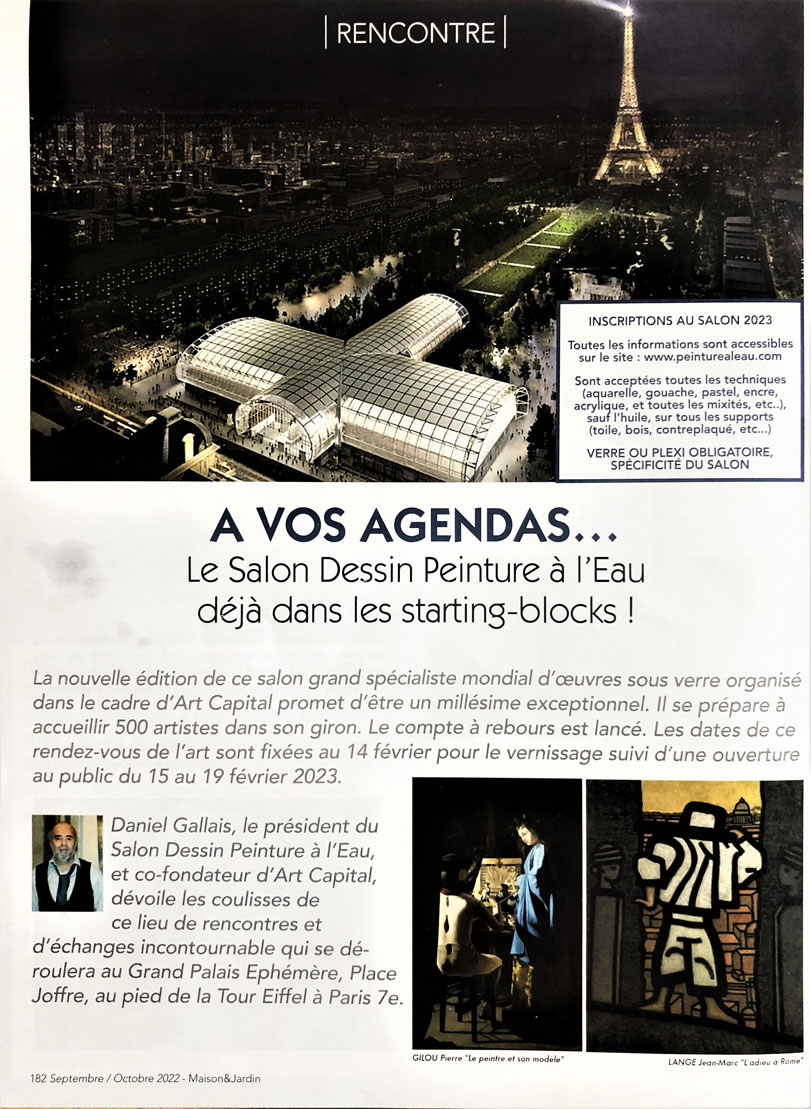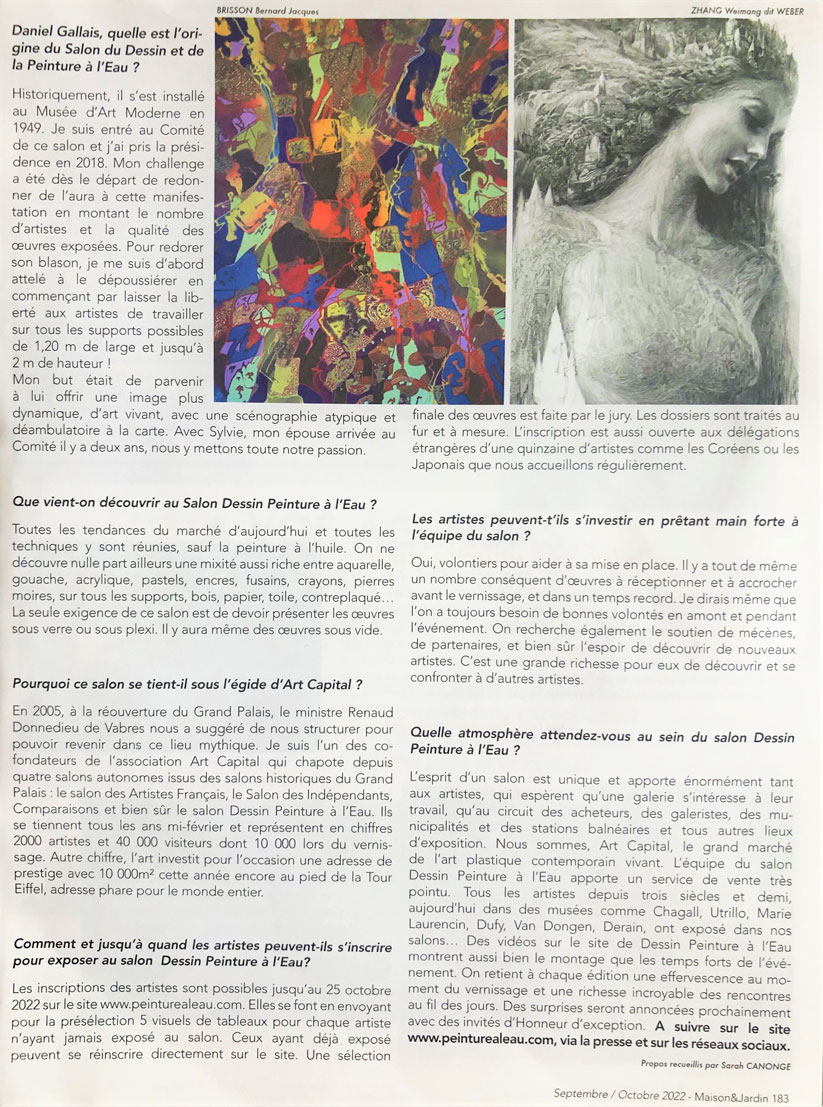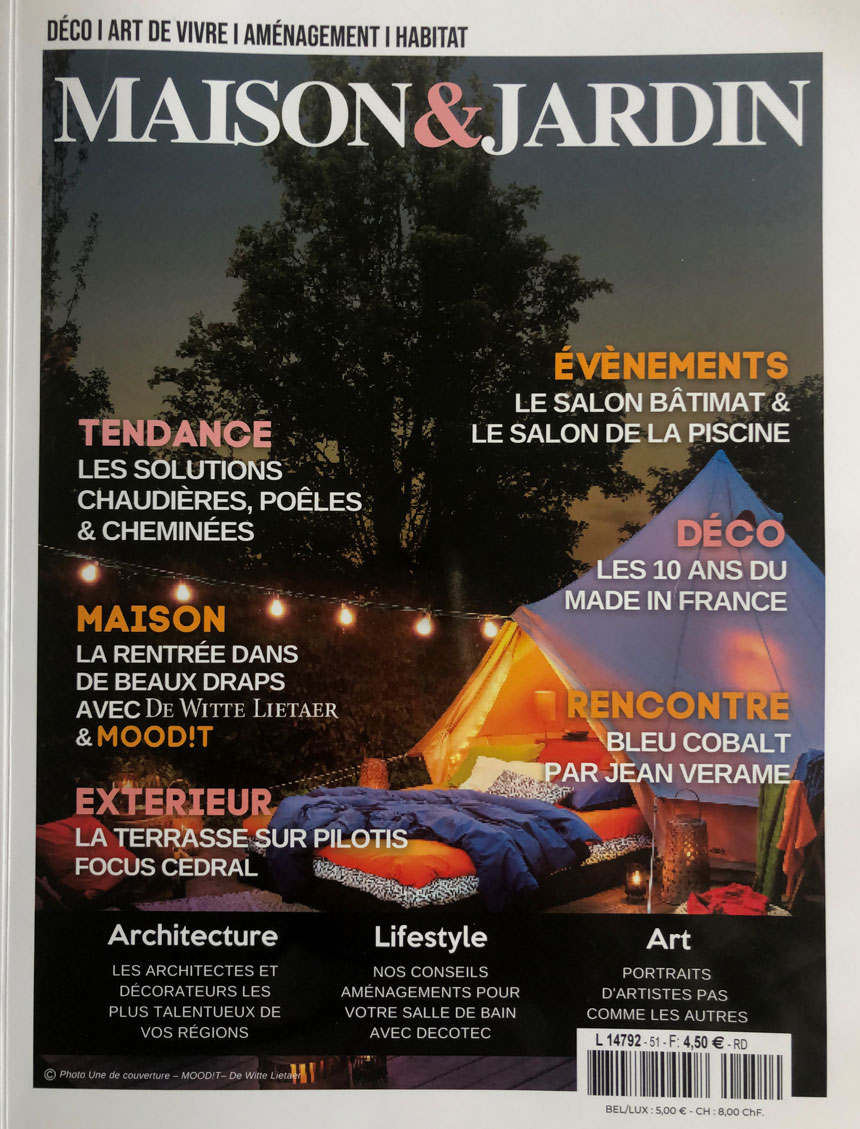 SALON D'AUTOMNE 2022
PARIS HALLE DE LA VILLETTE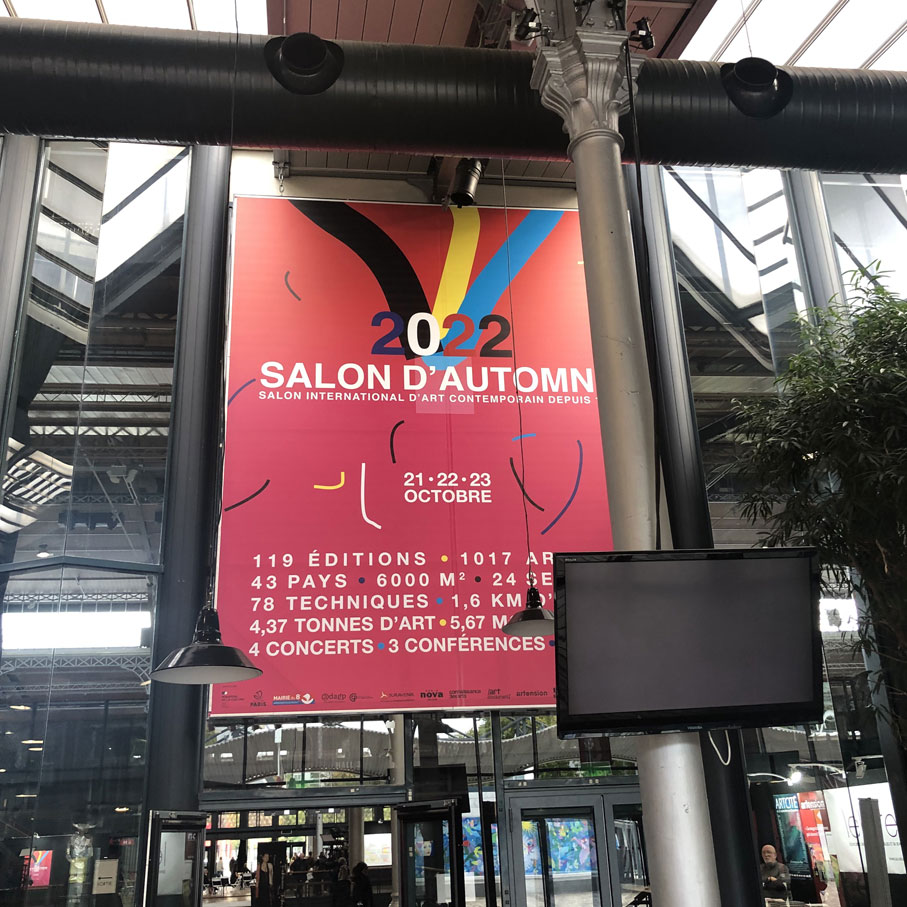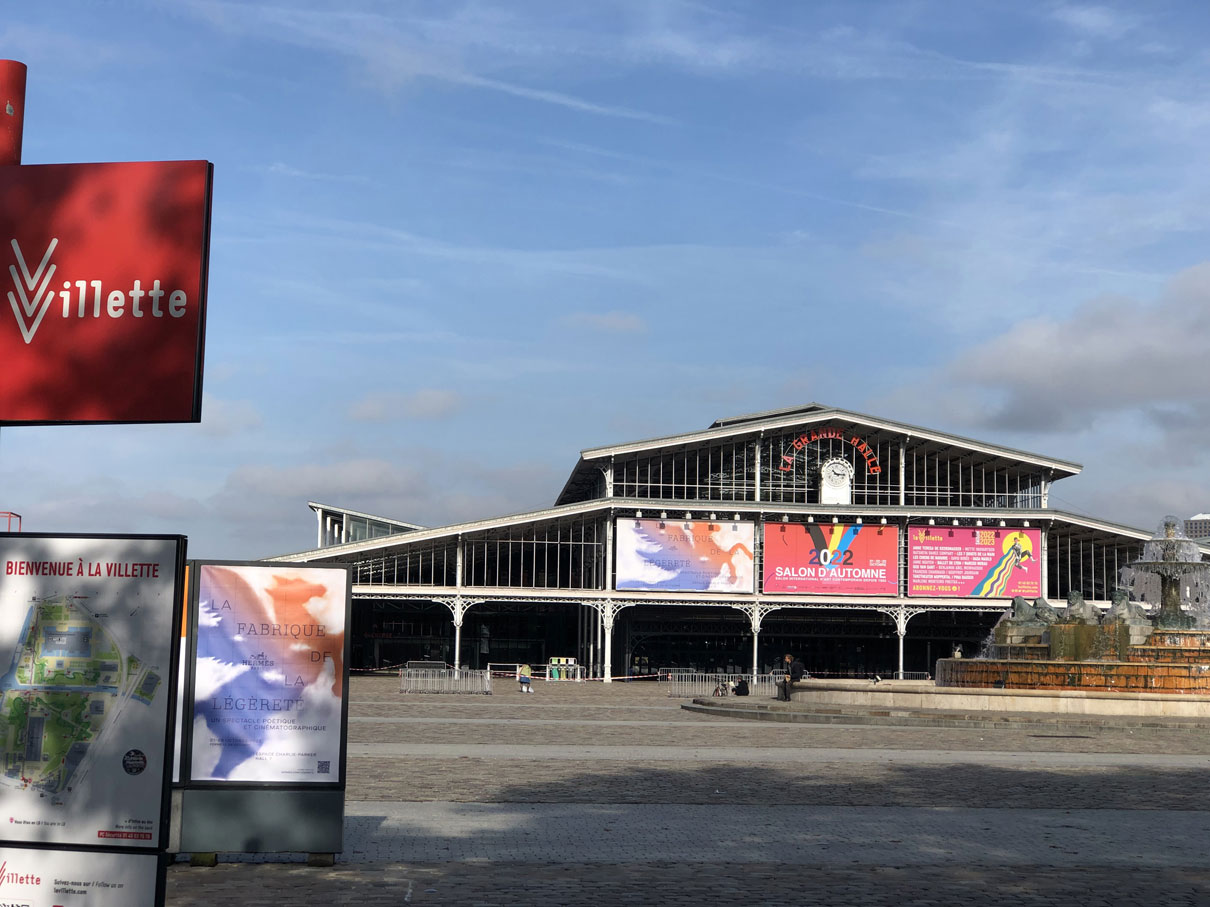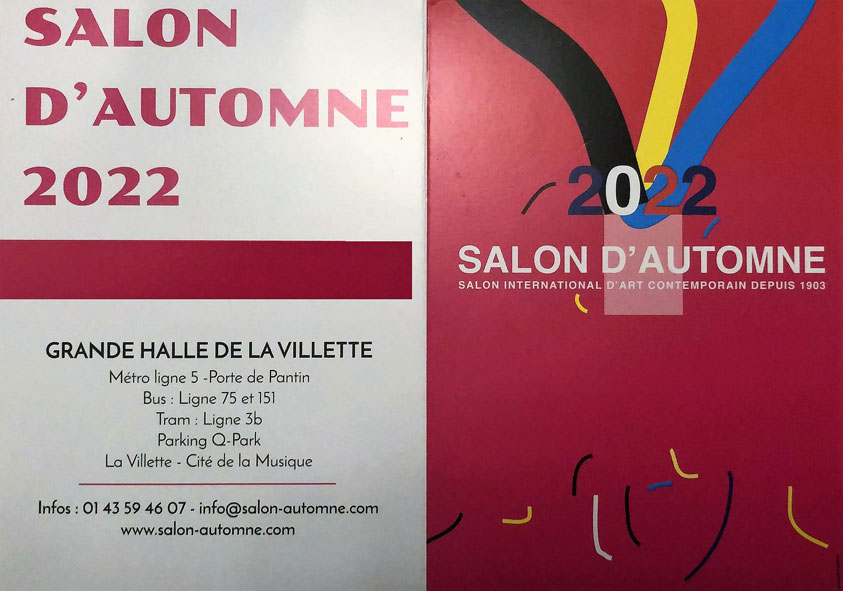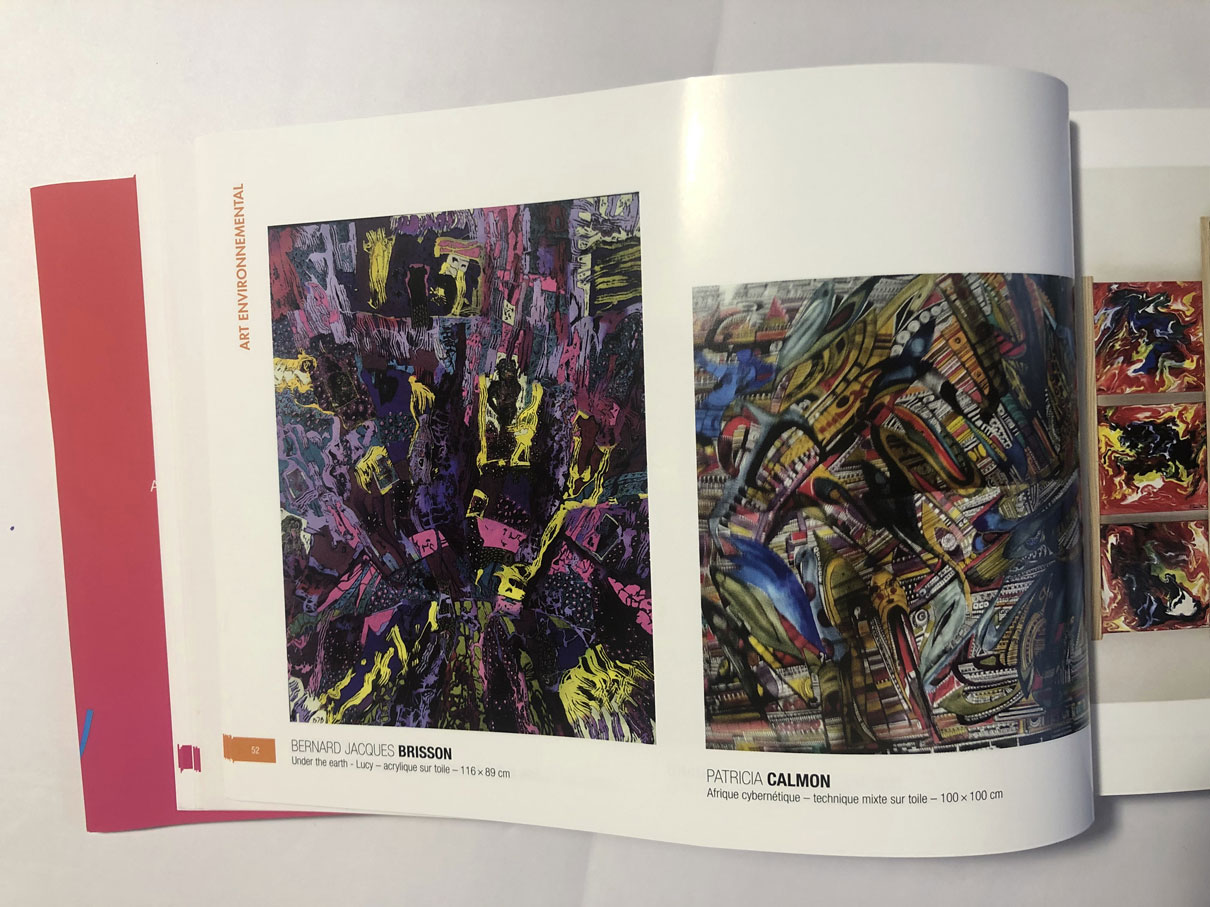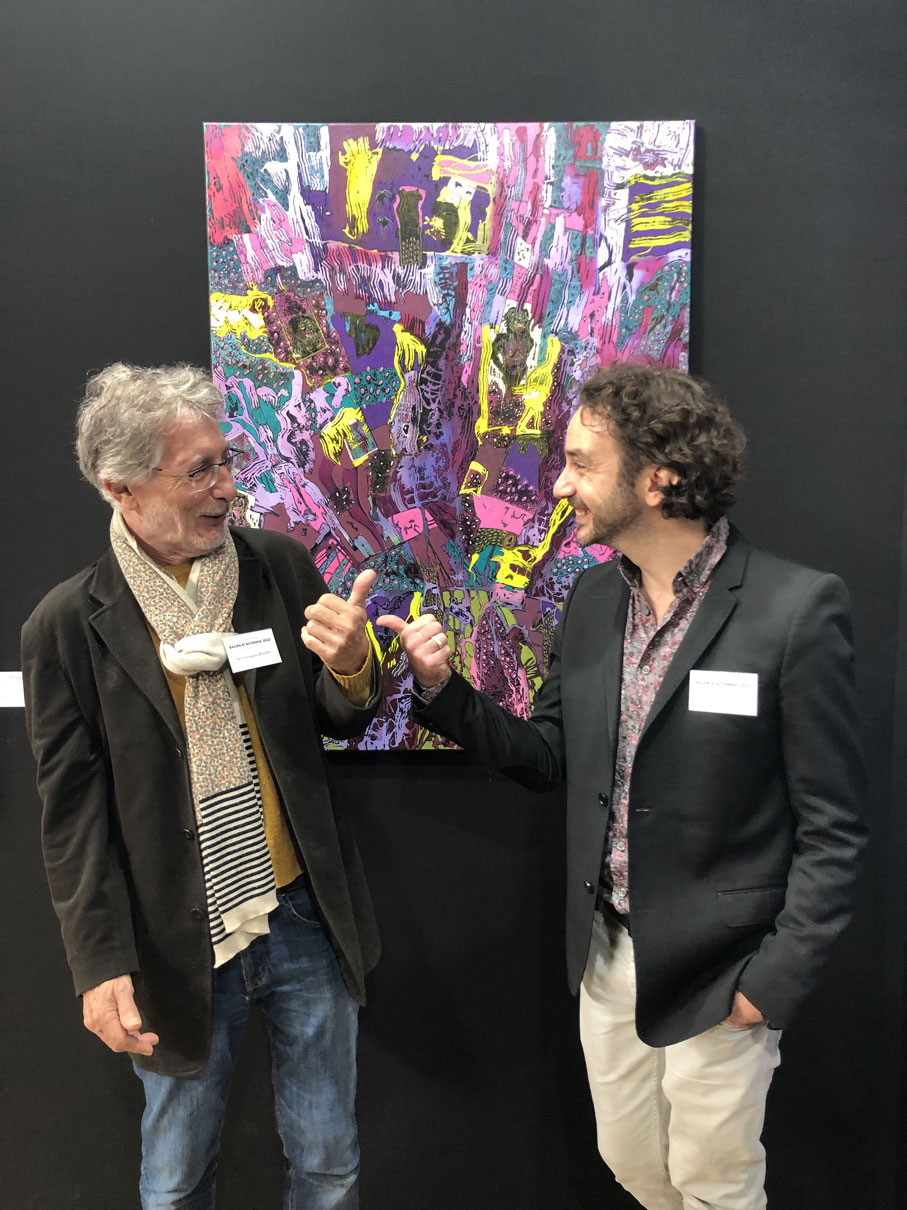 BJB with DAVID TWOSE
BJB with JACK DUFOUR - President of the "Environmental Art" section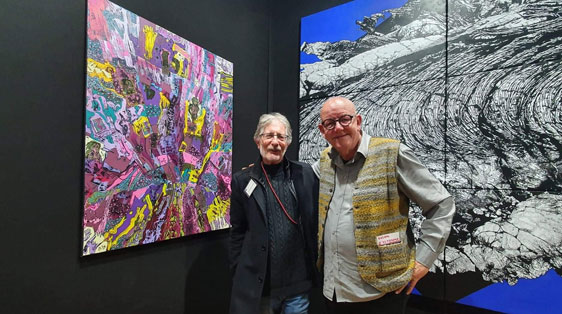 BJB with Christophe Detammaecker Galerie PARAGONE
EXHIBITION PALAIS BONDY LYON
CONTEMPORARY MEETINGS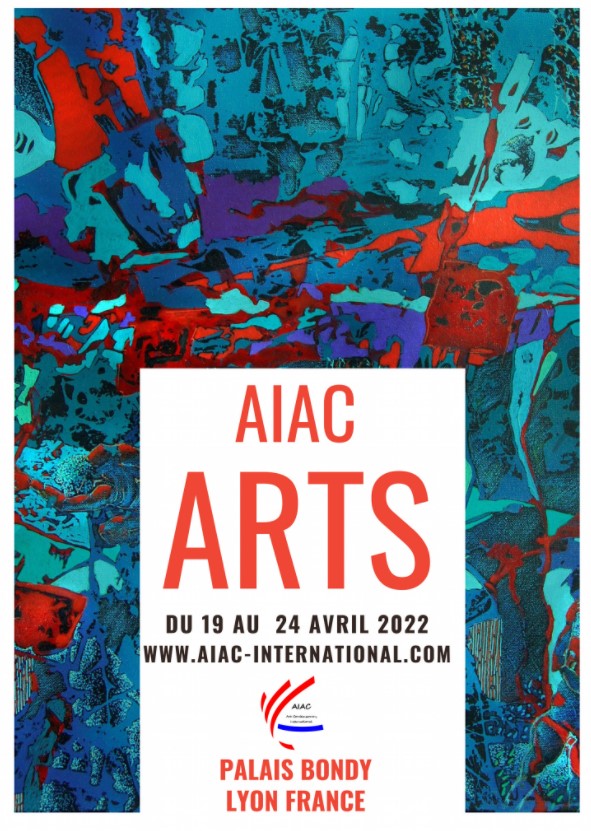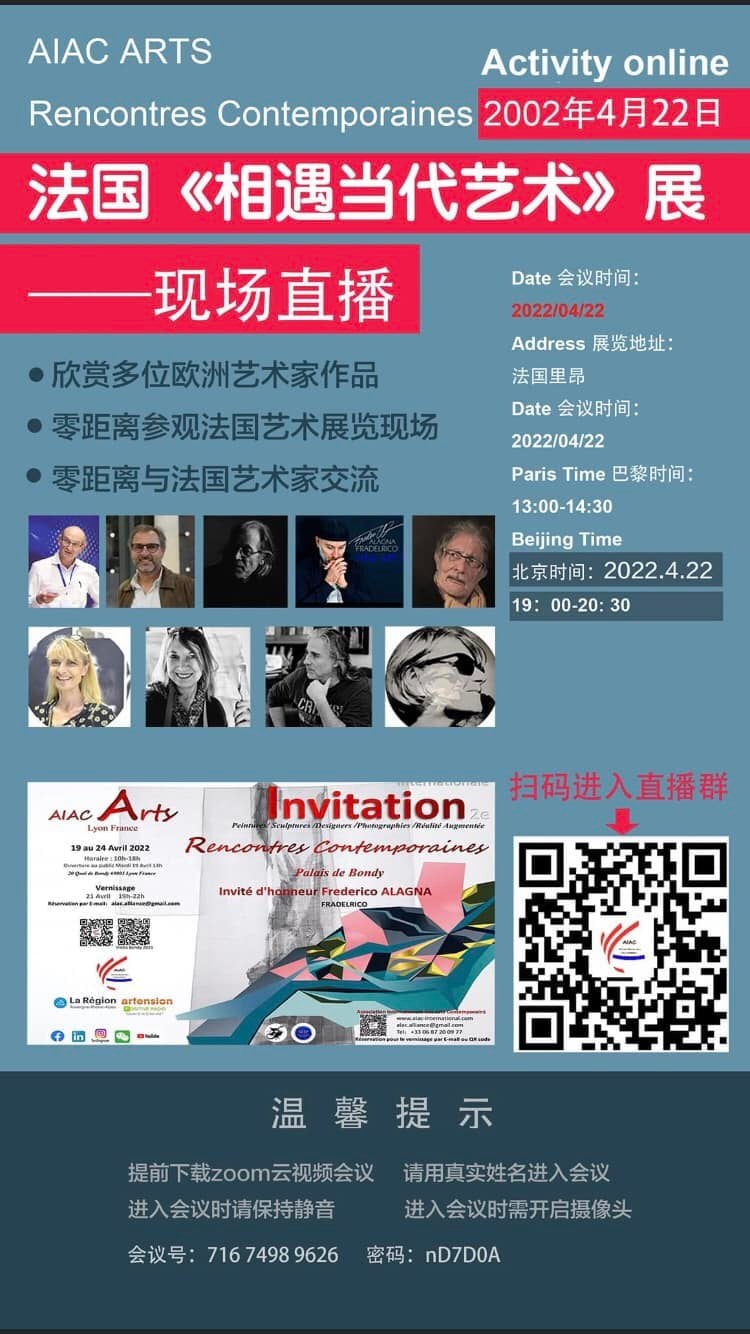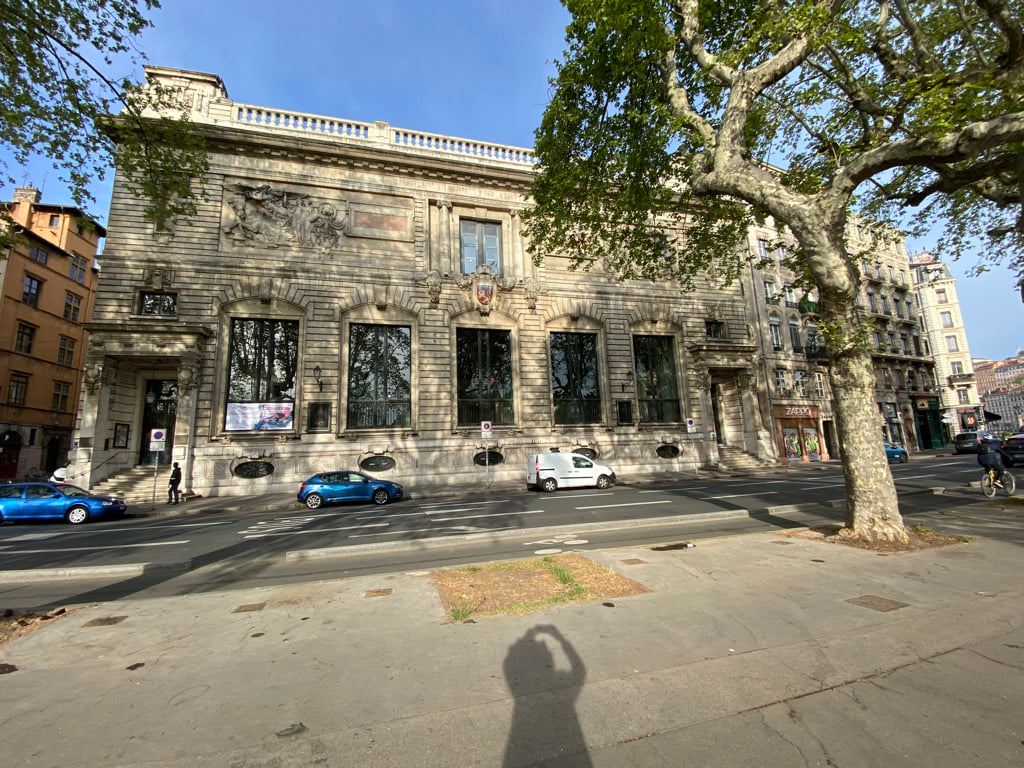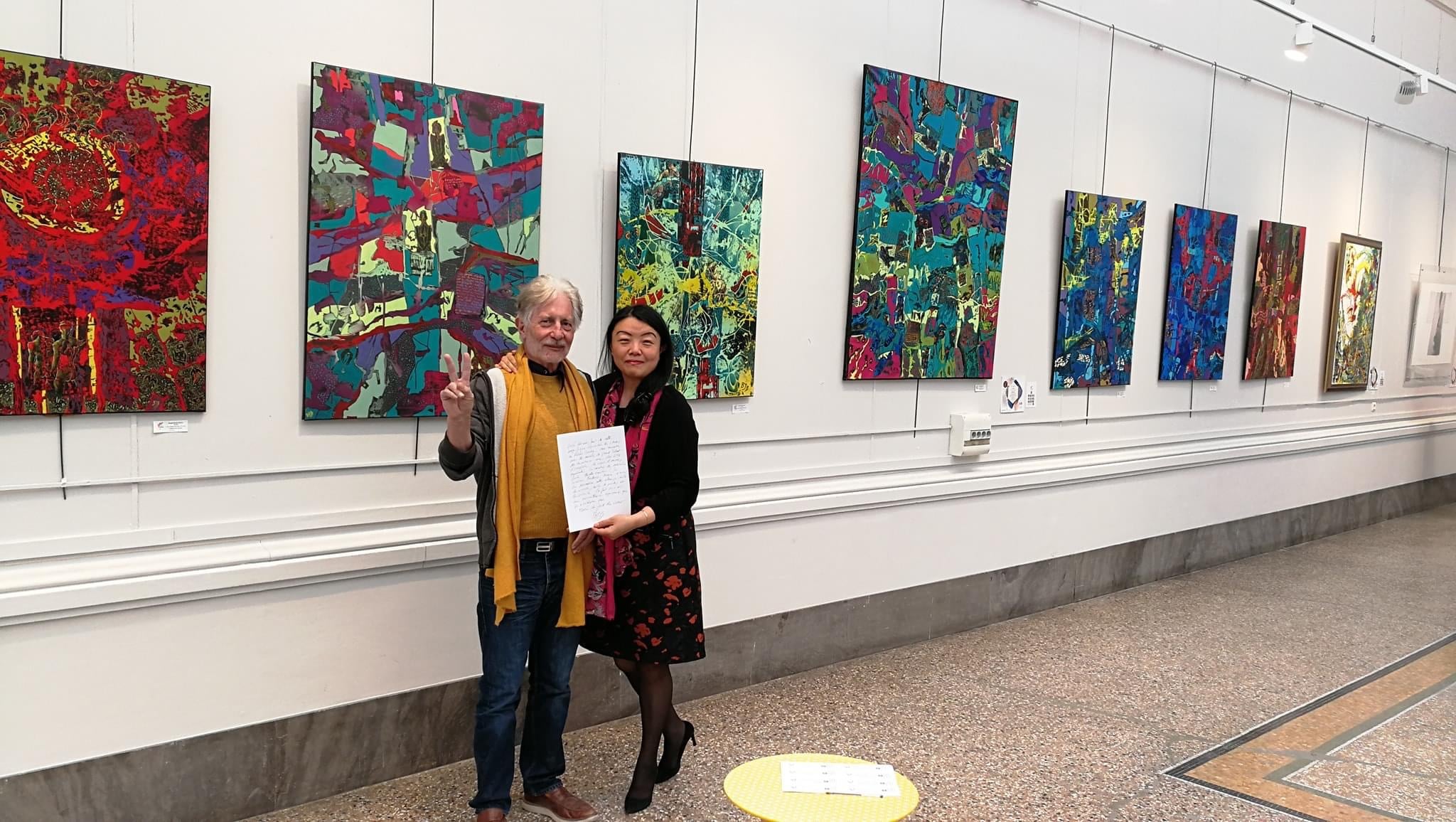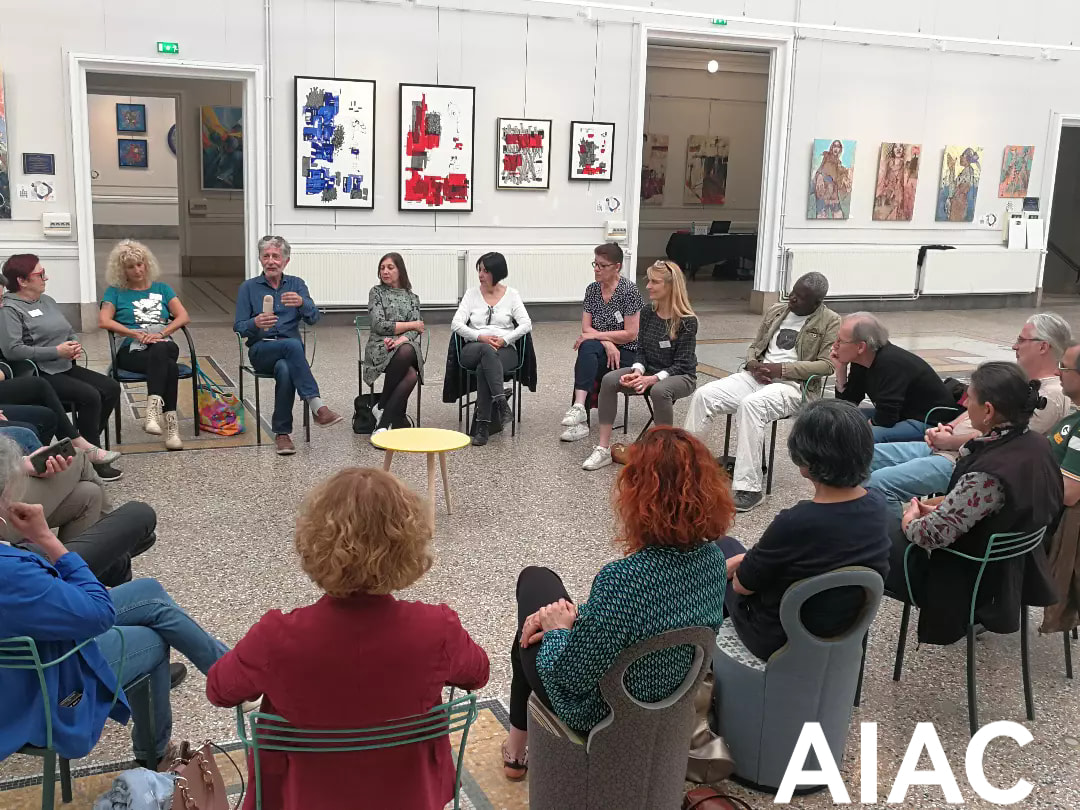 Round table with the artists of the exhibition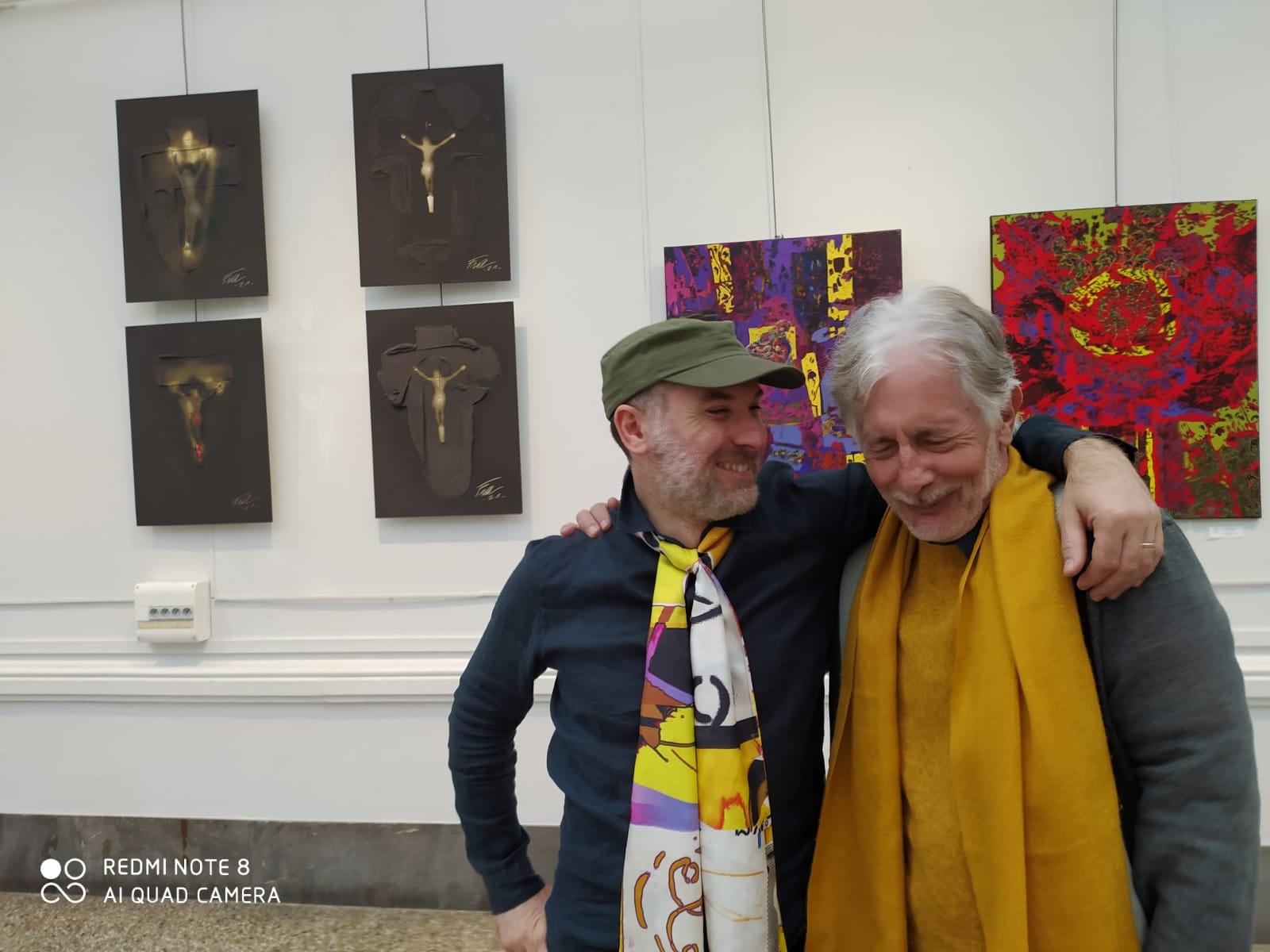 Bernard Jacques Brisson with Frederico Alagna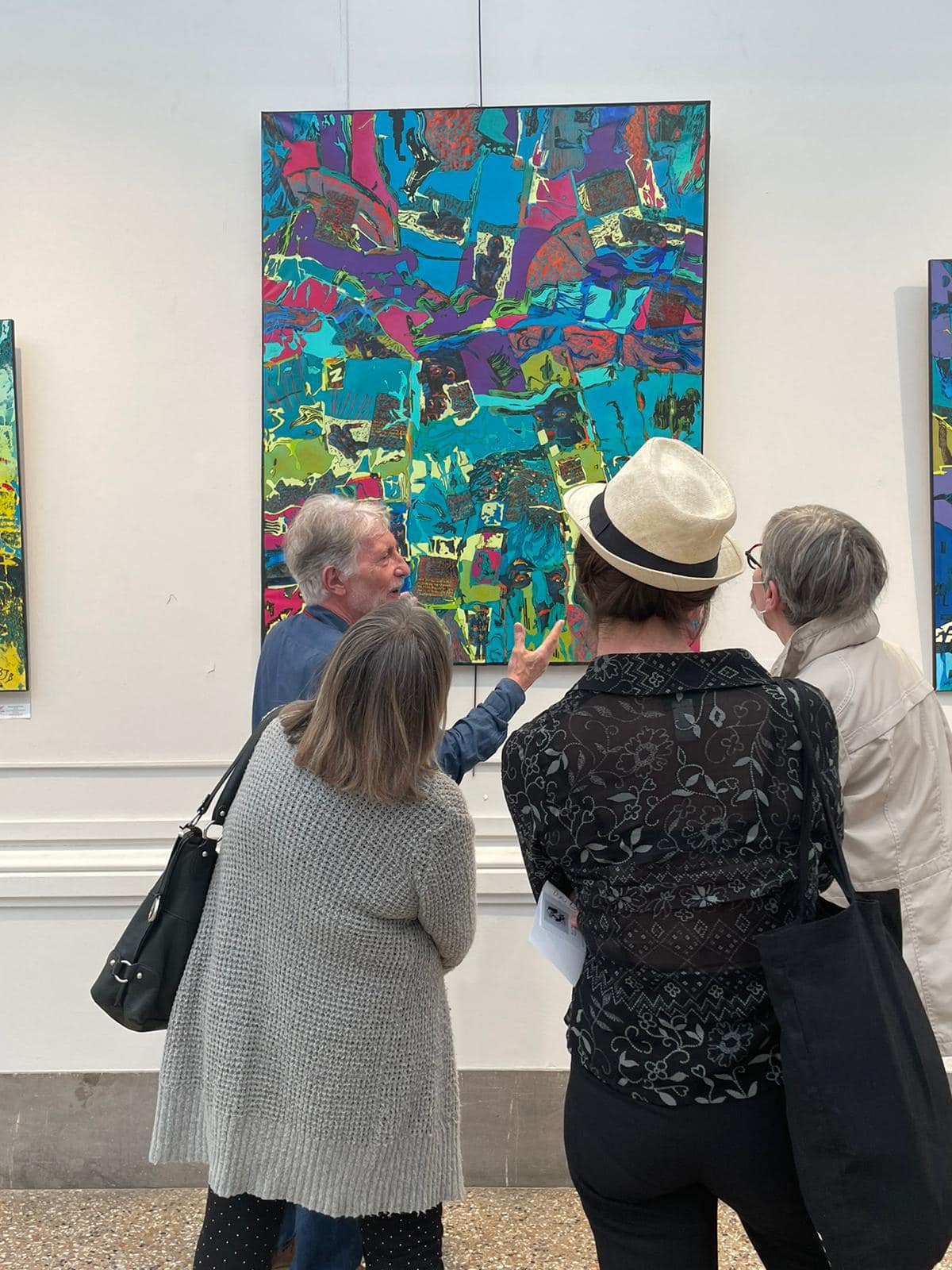 Presentation for the first time of the Alder King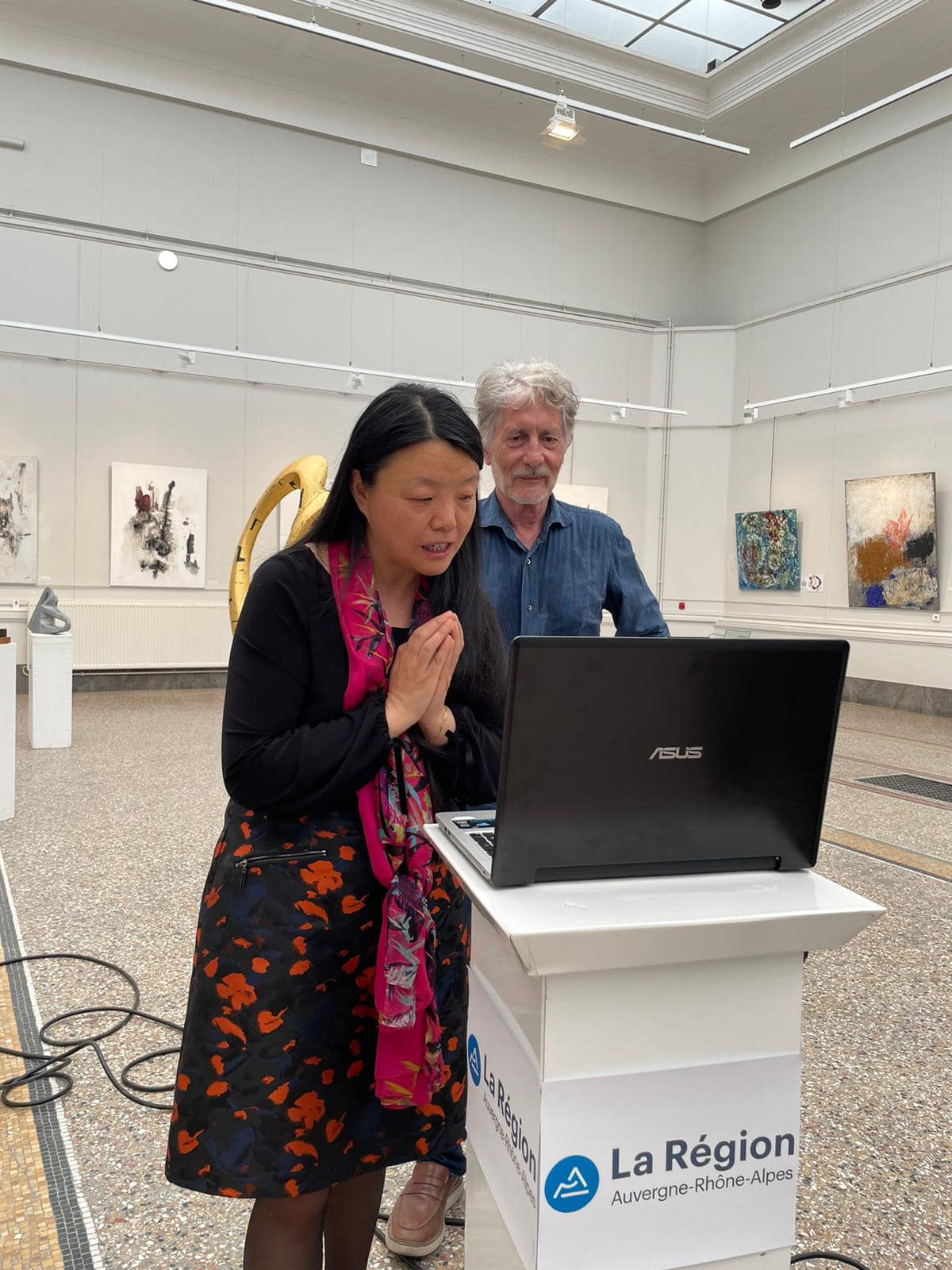 Video conference with representatives of Chinese Museums
ACTION : CREARTOTHEQUE 2021-2022

A day at the school of the lantern in Evry, with the children of three classes, a beautiful initiative of CREARTOTHEQUE, cultural project carried in partnership by the National Education, the cultural service of the city of Evry-Courcouronnes and the ANAS (National Agency for Sacred Arts)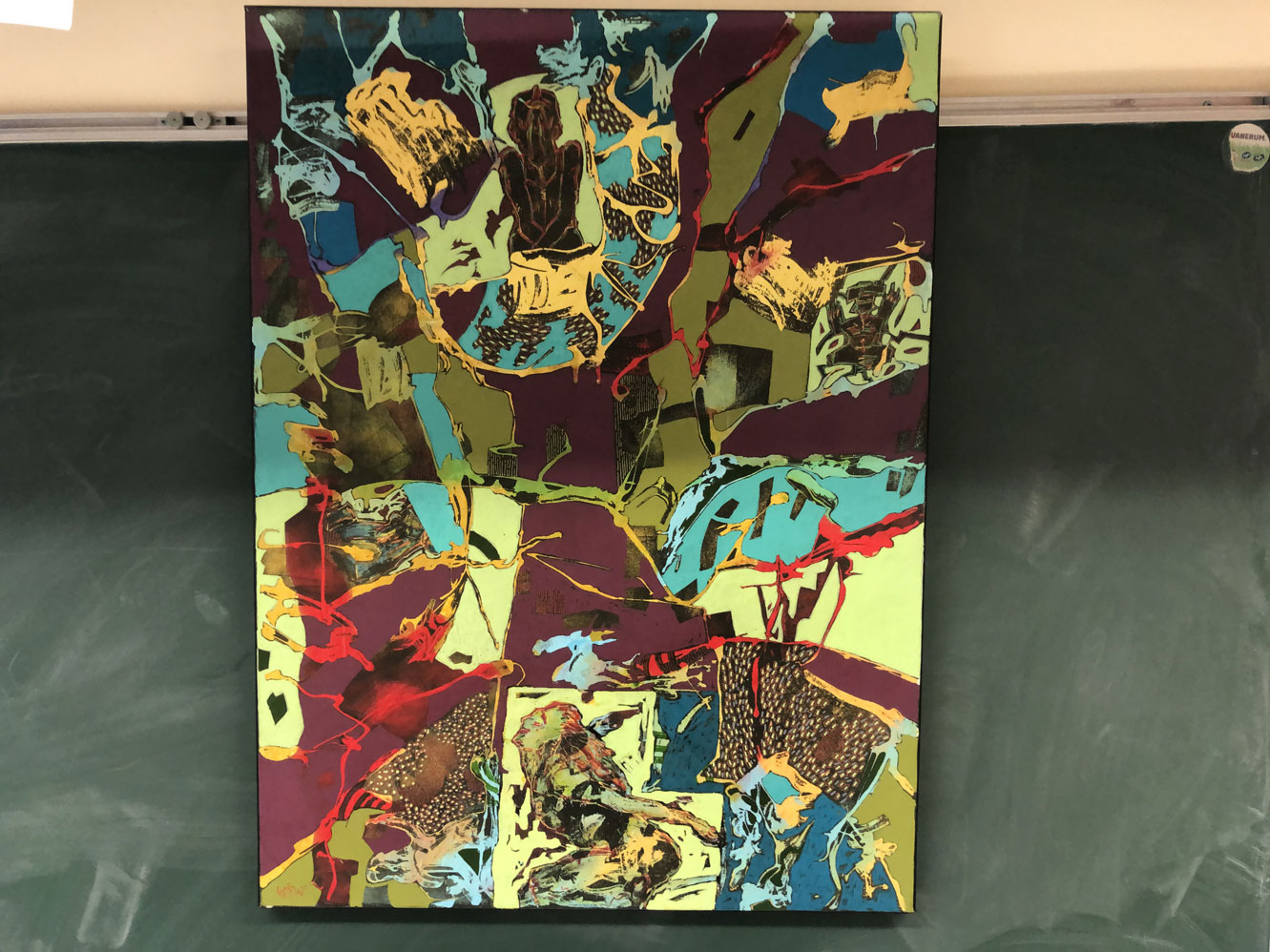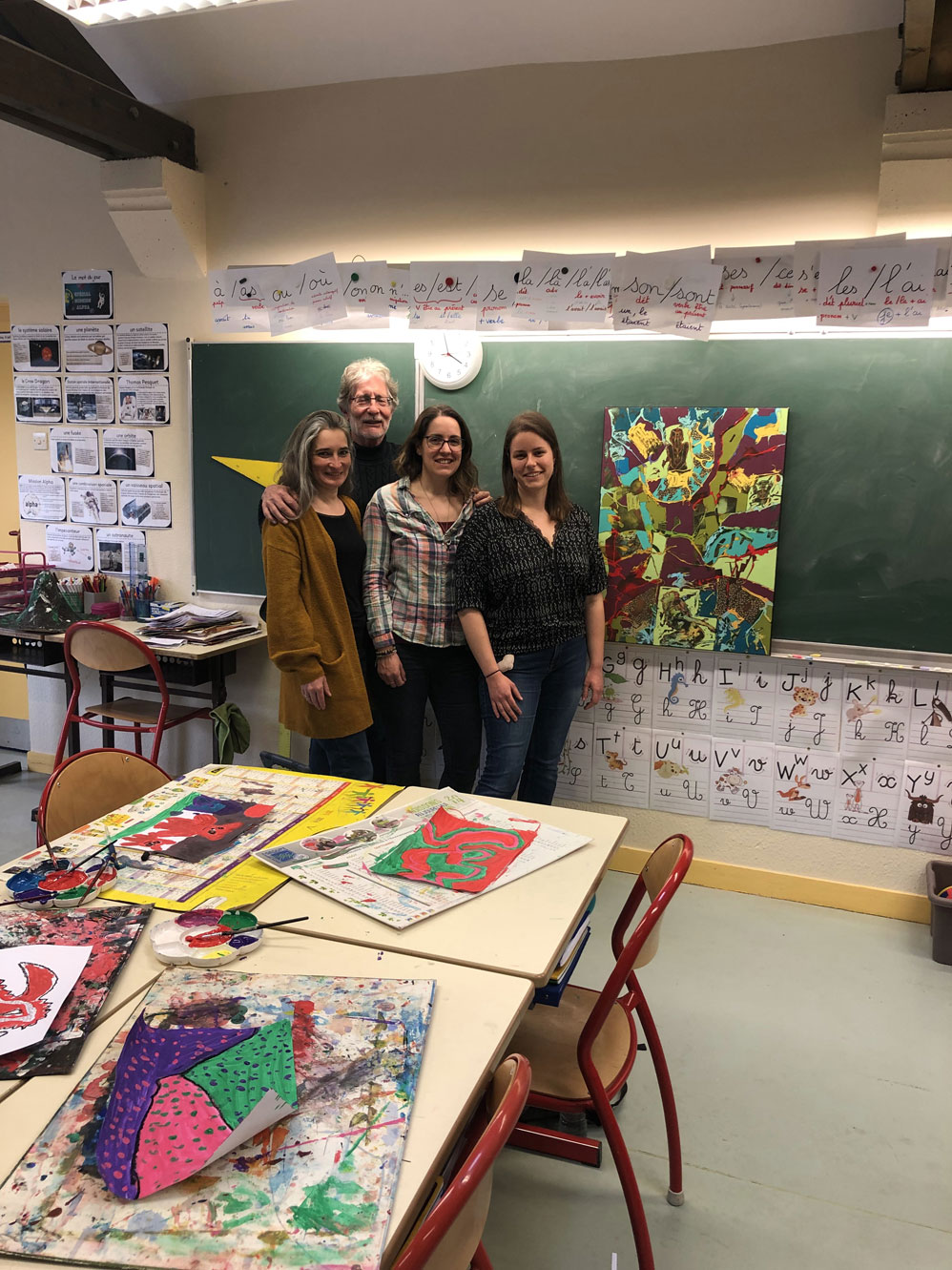 I would like to thank the organizers of this project and the children for this wonderful day spent in the classrooms of the ECOLE DE LA LANTERNE in Evry. Many thanks to Christelle Fageol, the school's director, Anabelle Herin, the teacher of CE1, Cyrielle Lang and Gwenaelle Jacob, the teachers of CM1 and CM2 for their warm welcome. It was a day of pure joy and sharing with these curious and attentive children. After the presentation, and answering their many questions, often very pertinent, we moved on to the practical part. No imposed theme, no preparation, a single constraint, choose three colors and let your imagination do the rest! Take a look!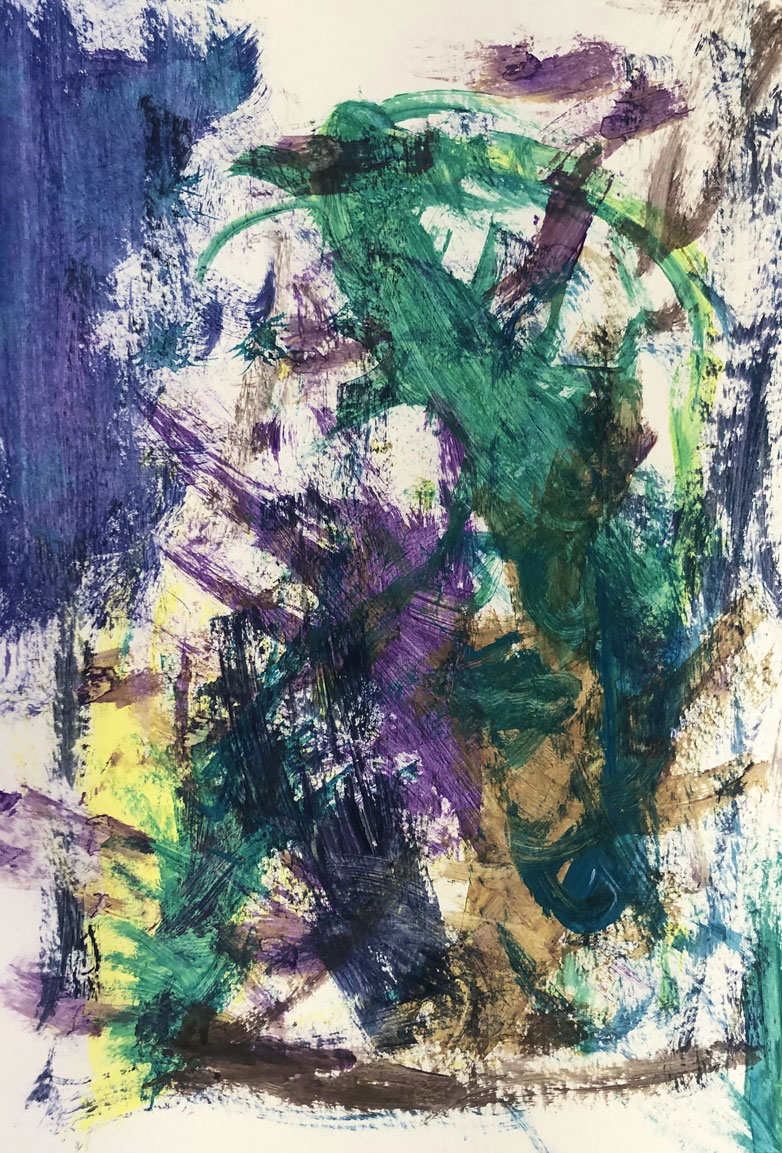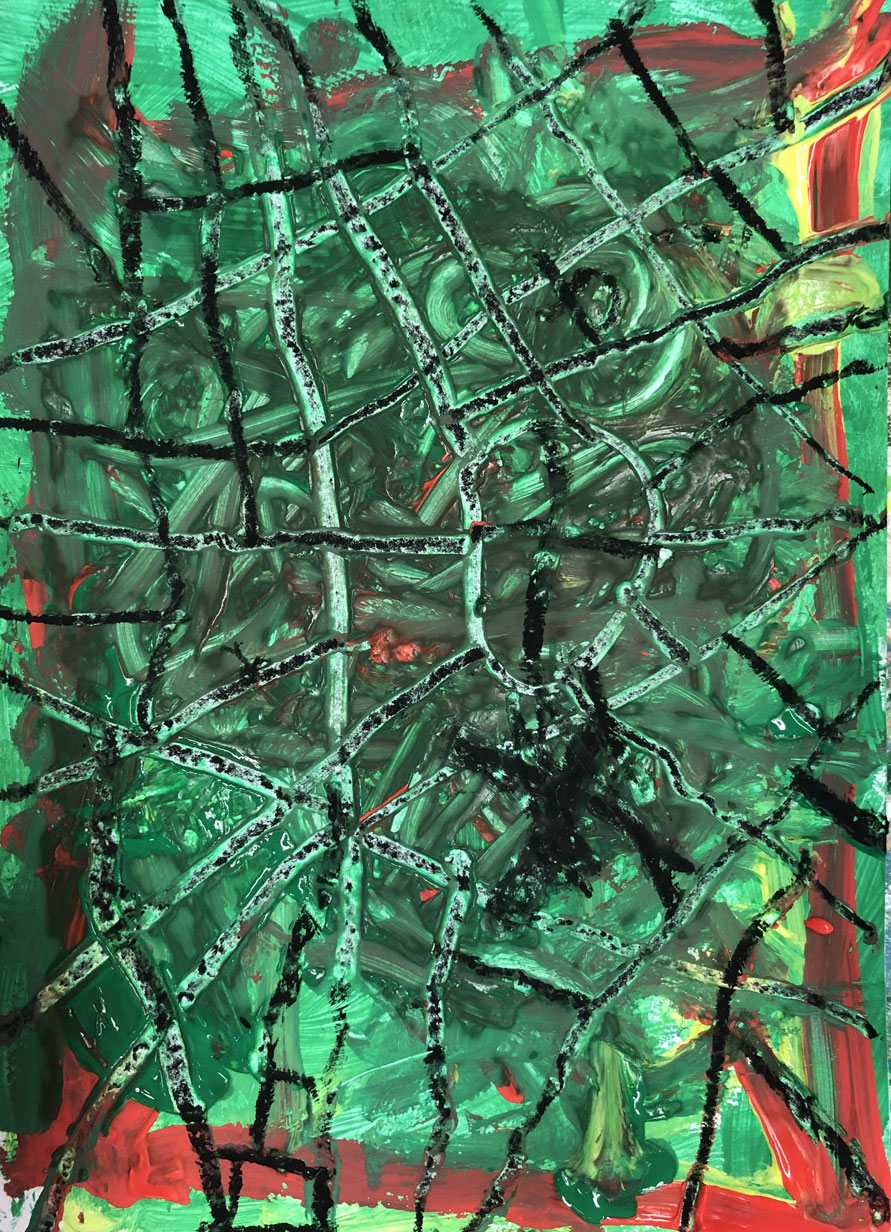 Exhibition ART CAPITAL FEBRUAR 2022 at the Grand Palais Ephémère PARIS "
EXHIBITION "FRENCH MOSAIC" in Saint Petersburg
EXHIBITION "FRENCH MOSAIC" Saint Petersburg
SUMMER AS ART: RECYCLE GROUP AND CONTEMPORARY FRENCH PAINTING AT BELMOND EUROPA

This summer, the Grand Hotel Europe in St. Petersburg presents two events for art lovers.

From July 15, the entire ground floor space will be the theatre of the exhibition of contemporary French artists "The French Mosaic". The French mosaic", including the "last impressionist" IDCA (Ida Cohen). In the hotel's atrium, a six-meter installation, Selfie Tower, by the art group Recycle: artists Andrei Blokhin and Georgy Kuznetsov, winners of the Kandinsky Prize and participants in the Russian pavilion at the 57th Biennale of Contemporary Art in Venice. Respecting history and with a genuine interest in new trends in contemporary art, the Grand Hotel Europe places its spaces at the disposal of artistic experimentation, demonstrating creative courage and the confidence of good taste.

Exhibition of French artists "The French Mosaic"
A joint project between the Grand Hotel Europe and the Parisian gallery "I-Gallery. Intelligence", an honorary patron of the Hermitage Museum. Olga Khlopova and Nina Emilia Ryzhkova, curators of the exhibition, present contemporary French painting of famous masters such as IDKA (Ida Cohen), Bernard Jacques Brisson, Véronique Pagès, Baia Drujon and the young generation of artists - Lela Migirov, David Twose, Mario Parodi.
The 30 paintings, which differ in style, technique, idea and concept, integrate perfectly into the hotel space
- Visitors will see Paris from an unexpected angle in David Twose's paintings.
-They will understand why IDKA (Ida Cohen) has been called the "last impressionist painter in France".
-- They will dwell over the paintings of Bernard Jacques Brisson, dedicated to a reflection on the eternal theme of the redemption of human error.
- The soft and abstract compositions of Véronique Pagès and the portraits of Baia Drujon will attract attention.
- Die Analyse der emotionalen Definition einer Person in der Welt von Lela Migirov wird interessant erscheinen.

The Grand Hotel Europe and I-Gallery.Intelligence, a collaborative project between the two countries, Russia and France, is a striking example of creative collaboration. The exhibition of French artists in the oldest hotel in Russia, on the occasion of the year of intercultural cooperation between the two countries, is a natural development of intercultural relations, revealing a broad perspective of mutual enrichment of cultural traditions. The exhibition and sale of paintings are presented in the hotel until the end of September 2021.
ELITE MAG ru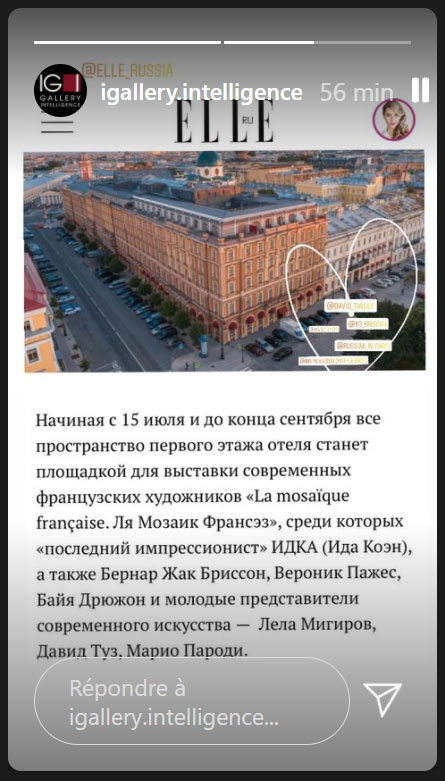 Exposition Belmond Europa Saint Petersbourg
From 15 July to the end of September, the entire ground floor of the Belmond Europe in St Petersburg will be the location for an exhibition of works by French contemporary artists "Gabatzière". Napsa! La Mosaïque Française", including the "last impressionist" Ida Cohen, Bernard Jacques Brisson, Véronique Pagès, David Twose and the young representatives of contemporary art - Lela Migirov, Baila Drujon, Mario Parodi.




THE EXHIBITION "SYNOPSIS OF EQUILIBRIUM" CONTINUES ITS JOURNEY. From June 2 to July 4 in the Exhibition Center of the Hermitage Museum in Vyborg (Russia)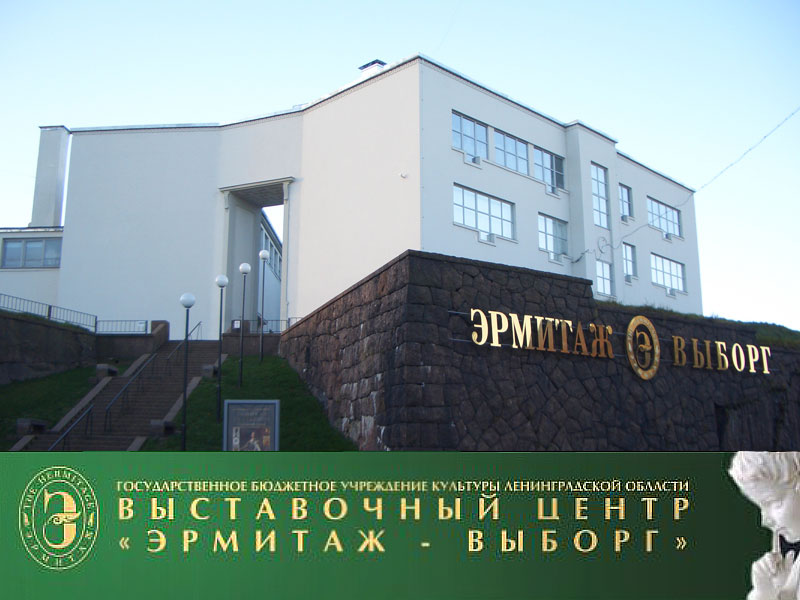 HERMITAGE EXHIBITION CENTER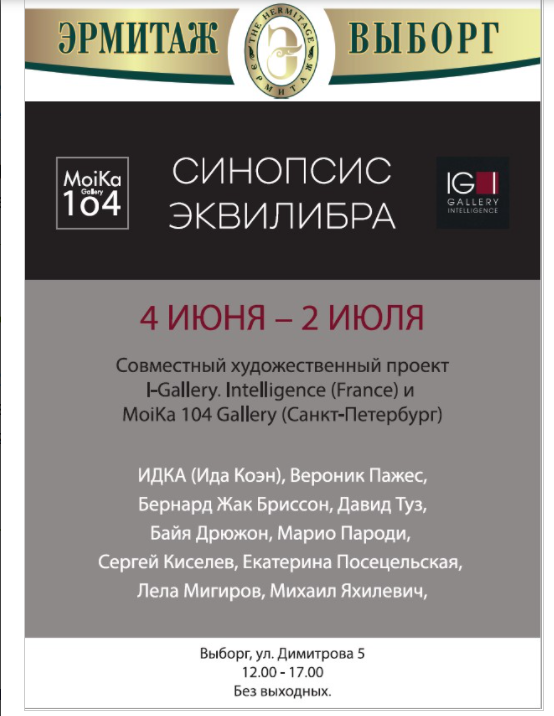 THE EXHIBITION "SYNOPSIS OF EQUILIBRIUM"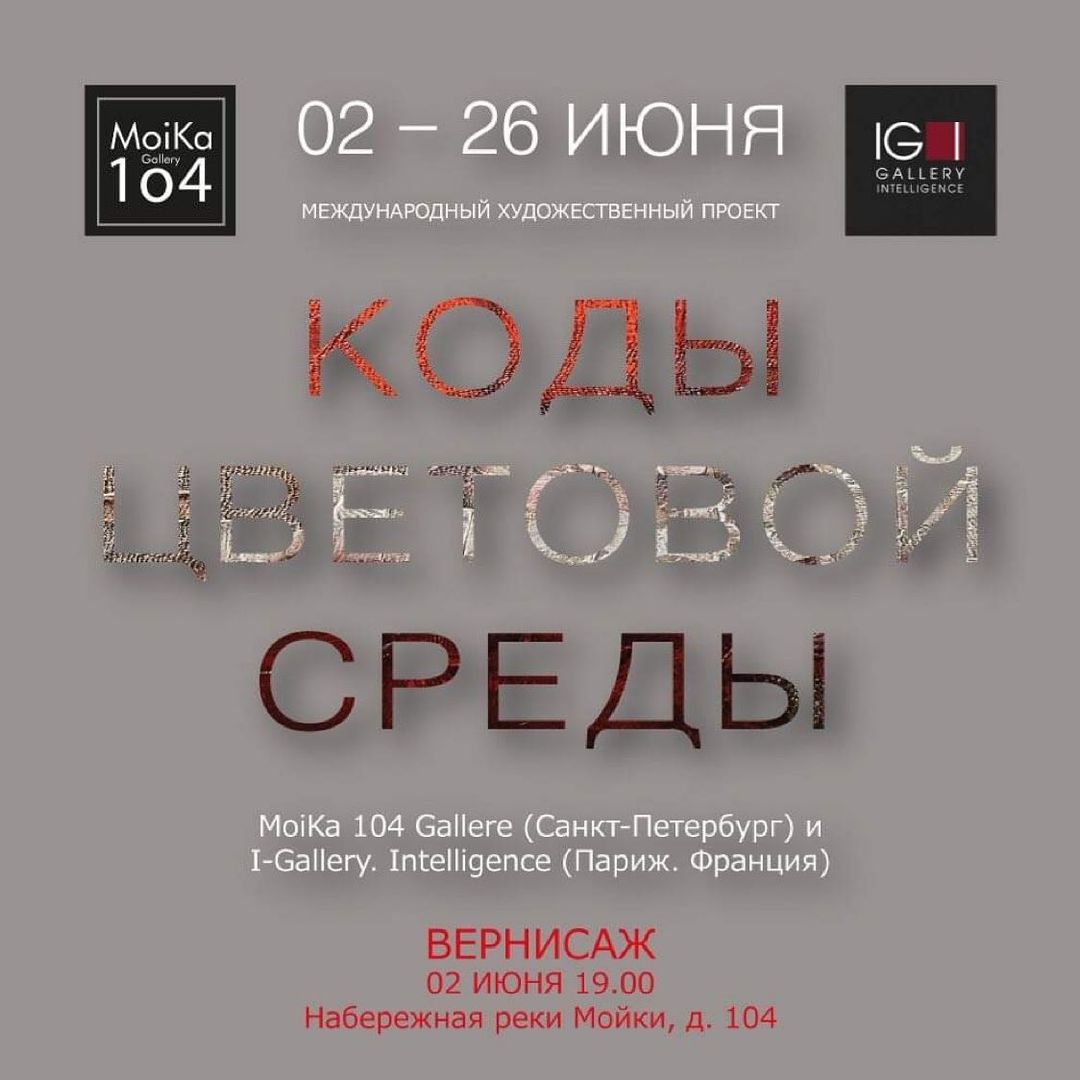 EXHIBITION "CODES OF COLOR "MOIKA 104 GALLERY SAINT PETERSBURG
"An artist, in his work, leaves many codes, sometimes without realizing it. They are reflected in the coloring, architectonics, writing style and other features of the work. The author refers in his work to his environment, in which he bathed since his childhood, with its cultural and aesthetic particularities. The environment imposes an indelible mark on the work, controlling the artist's hand. The project "Codes of Color Trace" aims to explore the relationship between creativity and the artist's environment. To study regularities, nuances and other distinctive features, following the example of contemporary national and international artistic practices. The project opens with an international exhibition presented by MoiKa 104 Gallery (St. Petersburg, Russia) and I-Gallery. Intelligence" (Paris, France @igallery.intelligence). The exhibition includes the works of contemporary French and Russian artists. By their example, they explore the particularities of their individual creative approach and the aesthetic and formal aspects."
Artists Sergey Kiselev and Victor Sirenko (Russia, St. Petersburg), IDKA (Ida Cohen - IDKA), Véronique Pagès, Bernard Jacques Brisson, David Twose
MOIKA 104 GALLERY ST PETERSBURG
" "
"...В композициях Бернара Ж. Бриссона - виртуозное владение цветом, ритмом и сложностью сюжетных ассоциаций..." Moika 104 Gallery
""...In Bernard J. Brisson's compositions, we admire a virtuoso mastery of colour, rhythm and the complexity of associations..." Moika 104 Gallery April 2021
Бернард Жак Бриссон Санкт-Петербург
"This can be translated as: briefly about balance. In this case, it is about the balance between abstraction and realism in painting, in the work of four masters and in each picture taken separately. Their works were brought to St. Petersburg by the French I-Gallery. Intelligence. Each of the masters has a brilliant creative personality and they are united only by the ability to combine abstraction and figurative....

"...Bernard Jacques Brisson attracts with the psychedelic brilliance of the palette, the total absence of narrative beginning and the fragments of human bodies that suddenly appear against a background of abstraction. Ultimately, it is the person who is the starting point of any field of visual arts."

"Olga Khlopova, artistic director of I-Gallery. Intelligence, says that in modern France, abstract painting is an absolute favorite. And that's why it's especially interesting to see how the seeds of realism are working their way through time, through prejudice."
Newspaper "St. Petersburg Vedomosti" 06.05.2021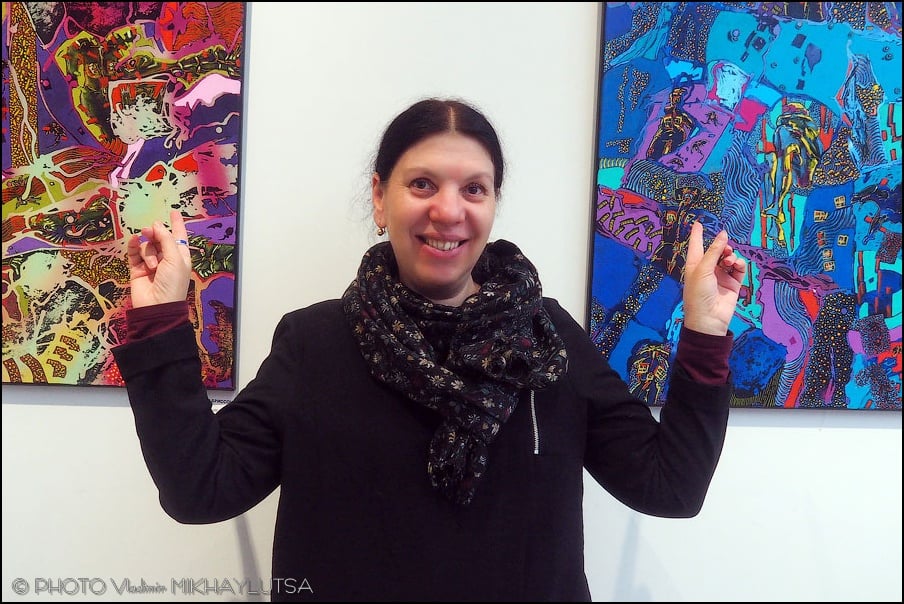 MOIKA 104 Gallery Saint Petersburg with Ekaterina Posetselskaya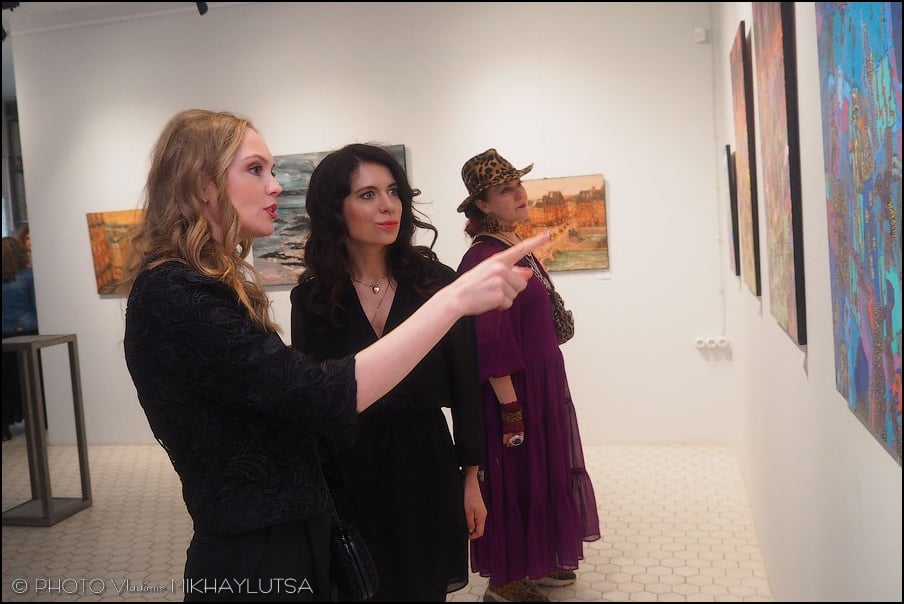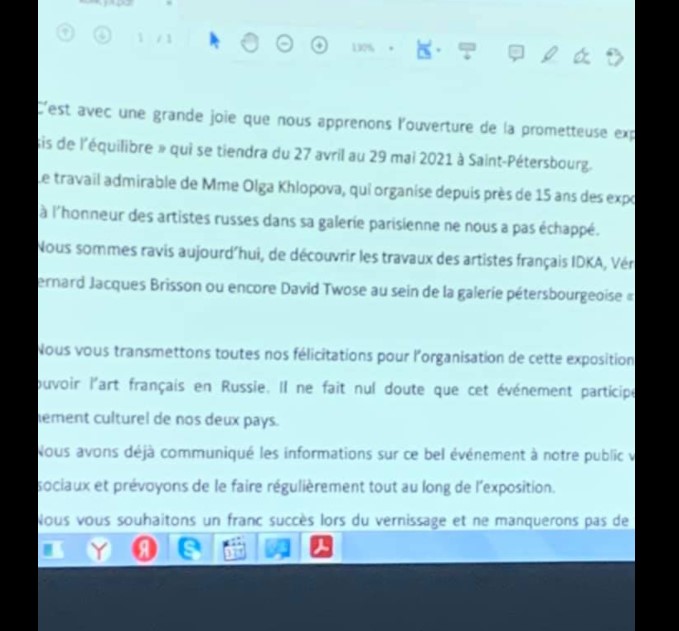 MOIKA 104 Gallery Saint Petersburg with Olga Khlopova and Nina Emiliaa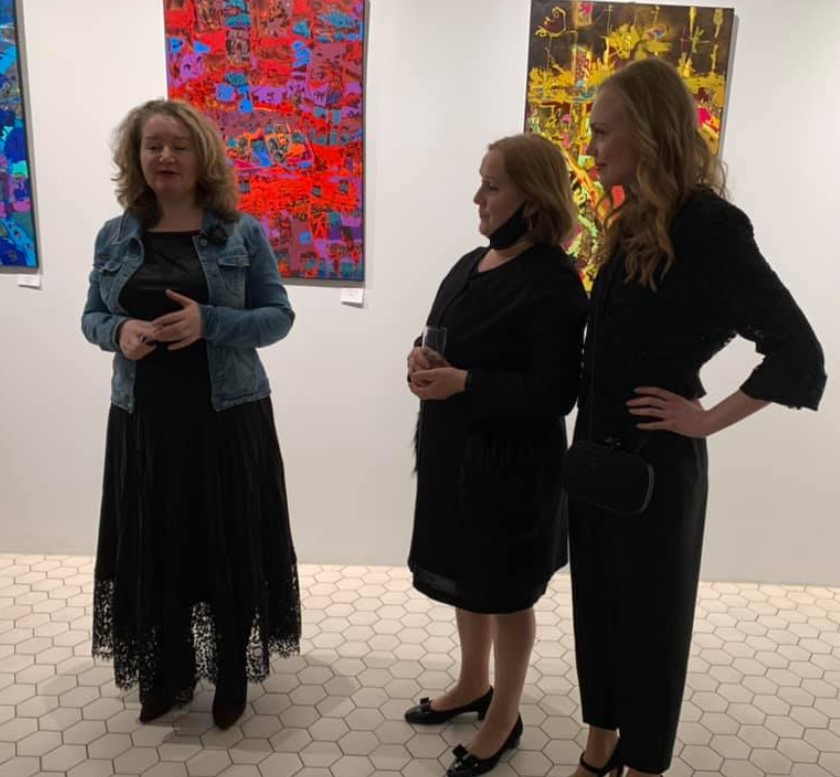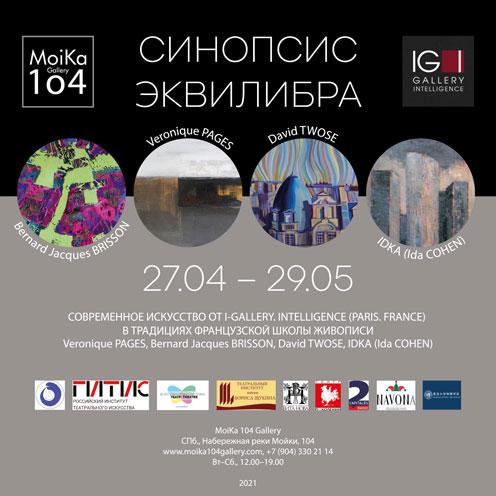 Exhibition St Petersburg April may 2021
EXHIBITION BBK DÜSSEDORF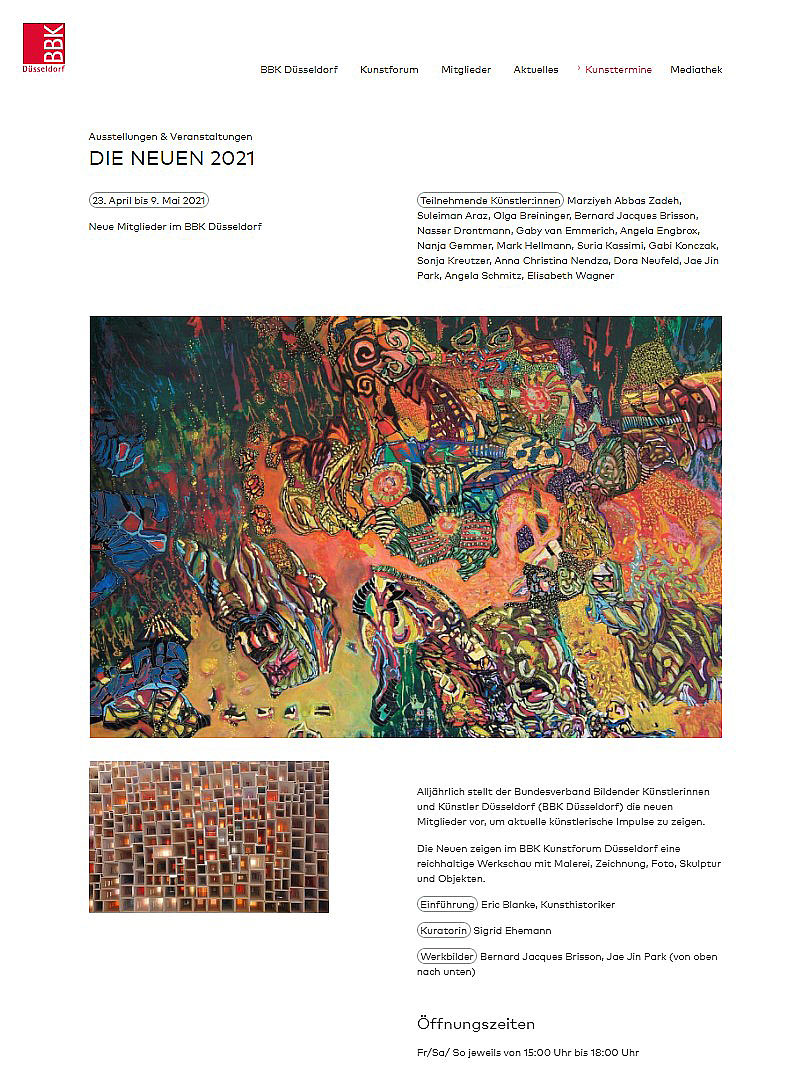 THE LOOK OF SERGE MAIRET
Do not try to explain: What's the point of fighting with someone bigger than you?
Imaginary universes :
Elusive imagination
Should you write ;
Painting is not a pocket
That you can turn over as you please.
It plays on the inner/outer dialectic
Abstraction does not an end conceptualization;
On the contrary, it ritualizes it.
I see here a cosmic ritual:
It is necessary to go beyond the physical glance
And even surpass the imaginary ;
To reach where ?
With a consummate mastery
Bernard Jacques Brisson diverts you from his object;
It pulls you to hue and cry,
Not in a color explosion
As you would have thought at first sight
But in a refraction of the light
Like the stained glass windows of a cathedral.
There, I begin to feel what makes its greatness:
All is revealed
And nothing is revealed;
Here I am: Bernard-Jacques Brisson
Is a dialectician of breathing.
I prepare myself, I go into apnea,
I take him in my arms, he takes me in his arms.
He waiter for me to enter the invisible with him,
In the ultra-violet which constitutes his intimate domain.
You have to squint you eyes to discover the tiny characters
Hidden in his paintings
Like so many dwarf stars!

Beware: he stubbornly seeks to divert your thought
From focus on a specific point,
To abstract you, to let you carry,
To take off your clothes,
To appear naked:
For what purpose?
You can see there aren't any
Miro had a little too boldly asserted
"Destroying the painting".
Picasso "what was left to do".
Bernard Jacques Brisson talks about creative energy,
Beneficial, open.
His paintings flow in a succession of traces
Which appear and disappear
Without seeming intimidated
By the game of gravity.
His art belongs only to himself:
It emerges where it was not expected,
Timeless
Forgetful even of oblivion:
There remains the joy to have traversed so singular work,
Knowing that he managed to make us his accomplice,
Which is not an easy task in graphic matters,
Like when you come back from visiting the crater of a volcano
The mouth still filled with the tawny color
Rivers of lava.
Its lava: a banner!


Serge Mairet, anthropologist, writer, journalist
founder of "The Art of the Resplendent City of Shambhala April 2021
April 2021